Budapest Debut Film Forum
The Hungarian production Lady Sunshine receives the award for the most promising full-length film project, and the most promising series prize-winning is Cold from Lithuania.
The event was organized between 27 and 31 March in Budapest. First-time film directors and producers presented their projects and exchanged experiences with their European peers, mainly from the CEE region, to receive professional guidance from international mentors to implement their upcoming projects successfully.
The organizers selected 5 feature films and 5 series from 9 European countries. The BDFF presentation at Kristály Színtér event was a full-house event, where a prestigious international jury decided on the awards: Gábor Greiner, COO of Films Boutique world sales company; Marge Liiske, Head of Industry at PÖFF Tallinn; Julietta Sichel, Czech film producer, former program director of the Karlovy Vary International Film Festival; Marek Novak Czech film producer.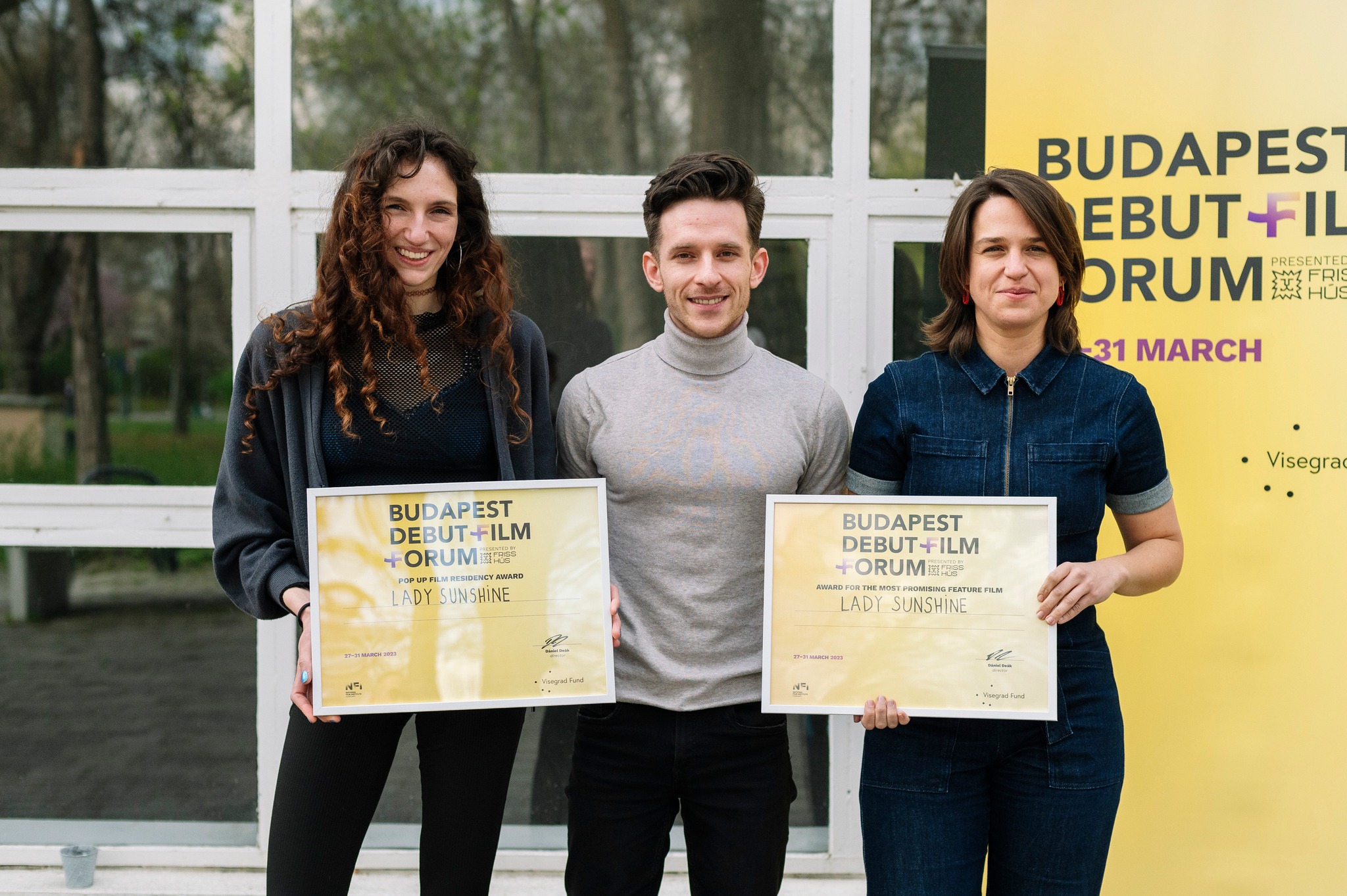 Anna 
Korom, András Soós and Anna Szijártó, creators of Lady Sunshine (Photo: Zsófia Sivák)
The Lady Sunshine wins the best full-length film award by director Anna Korom, producer Anna Szijártó, and writer András Soós for touching several fundamental universal subjects, including the longing for physical perfection and neverending youth. According to the justification, today's society pays too much attention to fake "values" and visual representation, for which our character is willing to pay any price without taking into account the necessary consequences. A search for dignity and self-appreciation in a visually captivating story should be able to engage various international audiences.
Lady Sunshine also won the Pop Up Film Residency special prize, allowing the creators to develop their film project in various Visegrád countries (Czech Republic, Poland, Hungary, Slovakia). 
The best series is the Lithuanian project Cold by writers Birutė Kapustinskaitė and Arturas Voinicius and producer Greta Akcijonaite. According to the evaluation, the universe is built based on an exciting concept, and the intertwining characters drive this drama series forward, which reflects on the geopolitical changes surrounding the breakup of the Soviet Union. The struggle for freedom, independence, and justice are key elements of the series, which is also interesting for an international audience.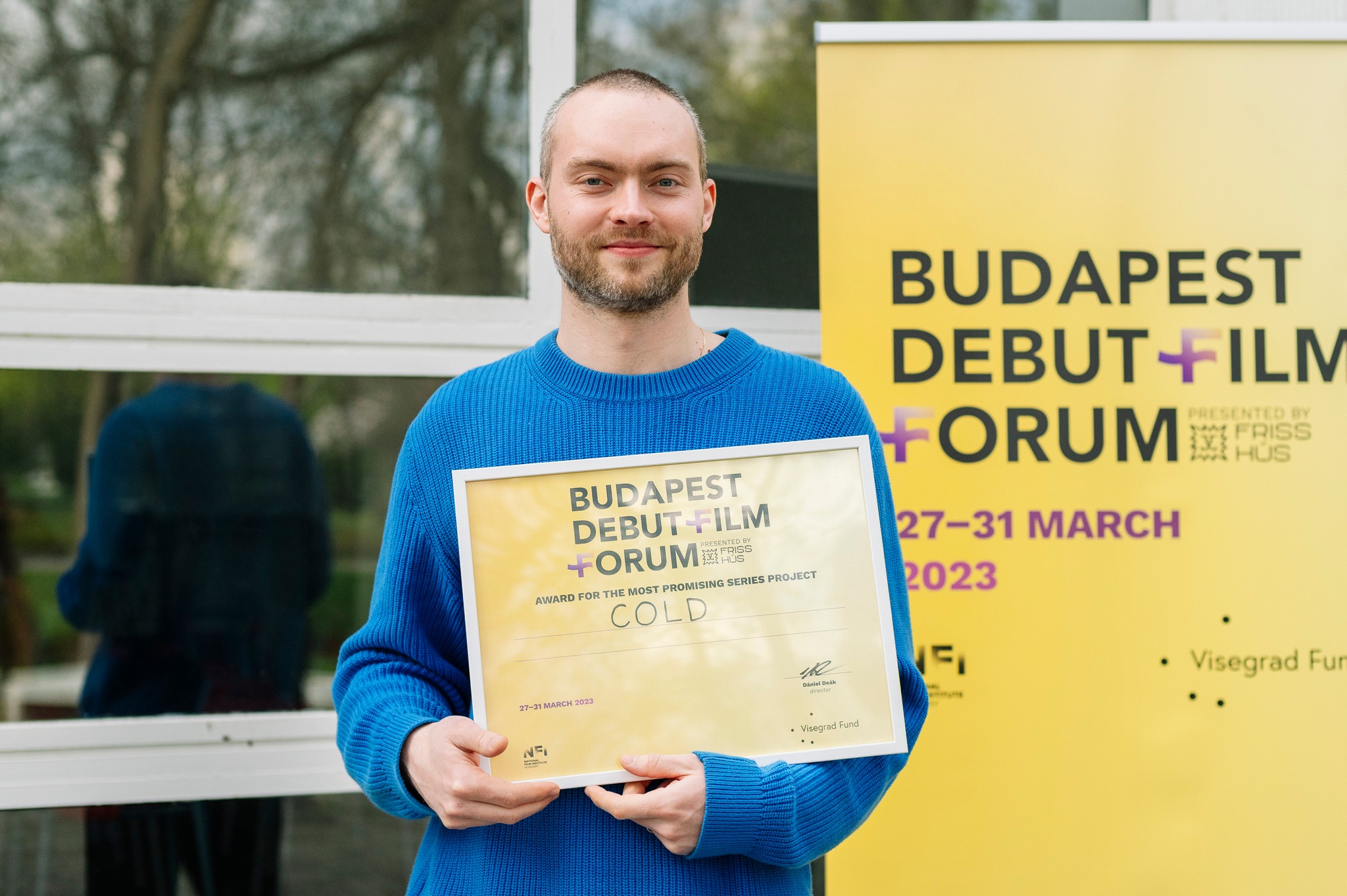 Domas Petronis (Photo: Zsófia Sivák)
Internationally recognized mentors – French producer Geoffroy Grison, Polish-based director-producer-showrunner Kristoffer Rus, British film specialist Paul Tyler, and Croatian producer Siniša Juričić – helped the first-time filmmakers prepare. 
BDFF was a four-day-long workshop with round table discussions on co-production opportunities with the participation of film institutes from neighboring countries (Croatia, Serbia, Slovakia), financing of co-productions or the current state of kid content in Europe. The participants also got to know two exciting debut film case studies: the production of the Czech-Slovak-German co-production Victim and the Hungarian-Slovak animated feature White Plastic Sky.
The Budapest Debut Film Forum is supported by the International Visegrad Fund and the National Film Institute of Hungary; its partners are New Europe Film Sales, Pop Up Film Residency, iShorts, and Visegrad Film Forum.
Sponsors:
Partners: