The festival winners were awarded at the ceremony held on Sunday afternoon. The jury of the Hungarian selection consisted of film distributor Anna Fodor, journalist Boyd van Hoeij (The Hollywood Reporter), and Balázs Pőcze, founder and Creative Director of Mito.
The Best Hungarian Short Film Award went to Last Call by Hajni Kis. The short's protagonist is an ageing woman who plans to leave her life in Hungary behind and move to her daughter's family in London. Last Call shows her last day while she tries to tie up loose ends, face her past and possible future.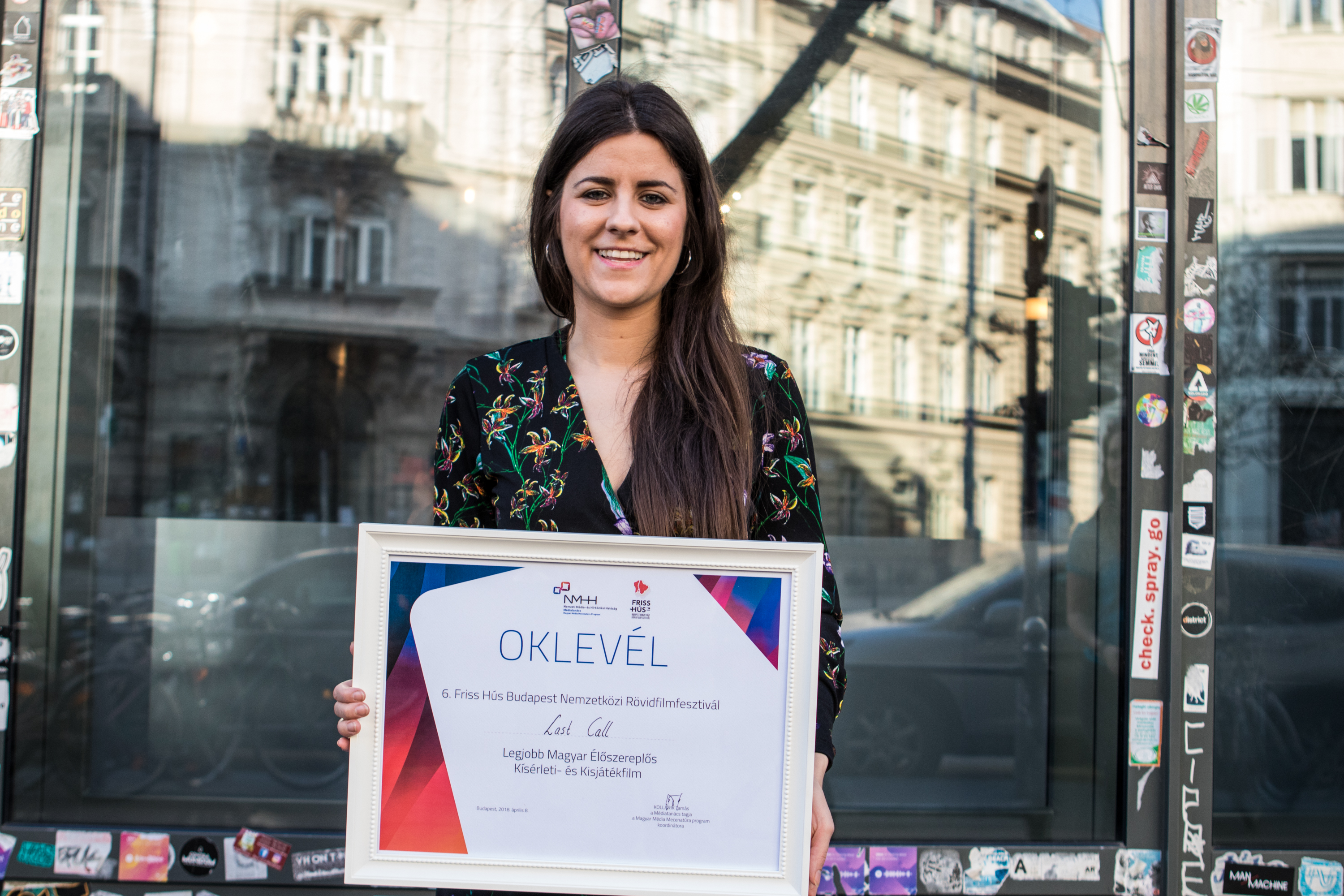 Hajni Kis with the award 
(Photo: Lili Chripkó)
Olivér Hegyi's Take Me Please, a surrealistic presentation of the end of a relationship, received the Best Hungarian Short Animation Award
The HUF 500.000 prize for the most promising Hungarian director under 30 was awarded to Szabolcs Nagy for his short Fiaskó (Fiasco).
Three films received special mentions by the jury: Párnaarc (Pillowface) by Péter Vácz for its creative storytelling, Kristóf Deák's A legjobb játék (Best Game Ever) for its choice of timely topic and quality of realisation, and Ostrom (Siege) by István Kovács for the directorial achievement.
Acting talents also had their own awards. Anikó Für was chosen as the Best Hungarian Actress for her role in Anyák napja (Mother's Day), and the Best Hungarian Actor Award went to Norbert Nagy for Rossz színész (Bad Actor).
Jury members of the international competition included animation director Réka Bucsi, actress-producer Andrea Osvárt, and film critic Ferenc Varga. They awarded Iranian director Kaveh Mazaheri's Retouch as the Best International Short Film for which it received a prize of EUR 1000. The jury described the film as being "both a black comedy and a tense thriller about an Iranian woman whose invisibility in the society helps her to commit the perfect murder". Elaborating on their decision, they added that "director Kaveh Mazaheri managed to tell a very actual and complex story in only 20 minutes, which sparked our imagination and raised many questions".
Sorayos Prapapan's Death of the Sound Man received an honorable mention for its "delightful, visually stunning tribute to the often unmentioned background members of filmmaking".
The fourth Hungarian pitch forum took place on Friday afternoon in Toldi where the pre-selected directors could pitch their short film projects. The jury for the pitch forum consisted of producer Mónika Mécs (Brazils, On Body and Soul), screenwriter Bálint Hegedűs (Kincsem, Liza the Fox-Fairy), and director-screenwriter Balázs Lengyel (Lajko - Gypsy in Space).
The HUF 300.000 prize, made up of donations from the industry, was received by Ákos K. Kovács's Branka. According to the jury, "Branka calls attention to the fact that not only victims or perpetrators of tragedies can be interesting from a dramatic point of view but also those who are often only silent witnesses to the events. They added that Branka's "story based on true events could be made into a unique and powerful short".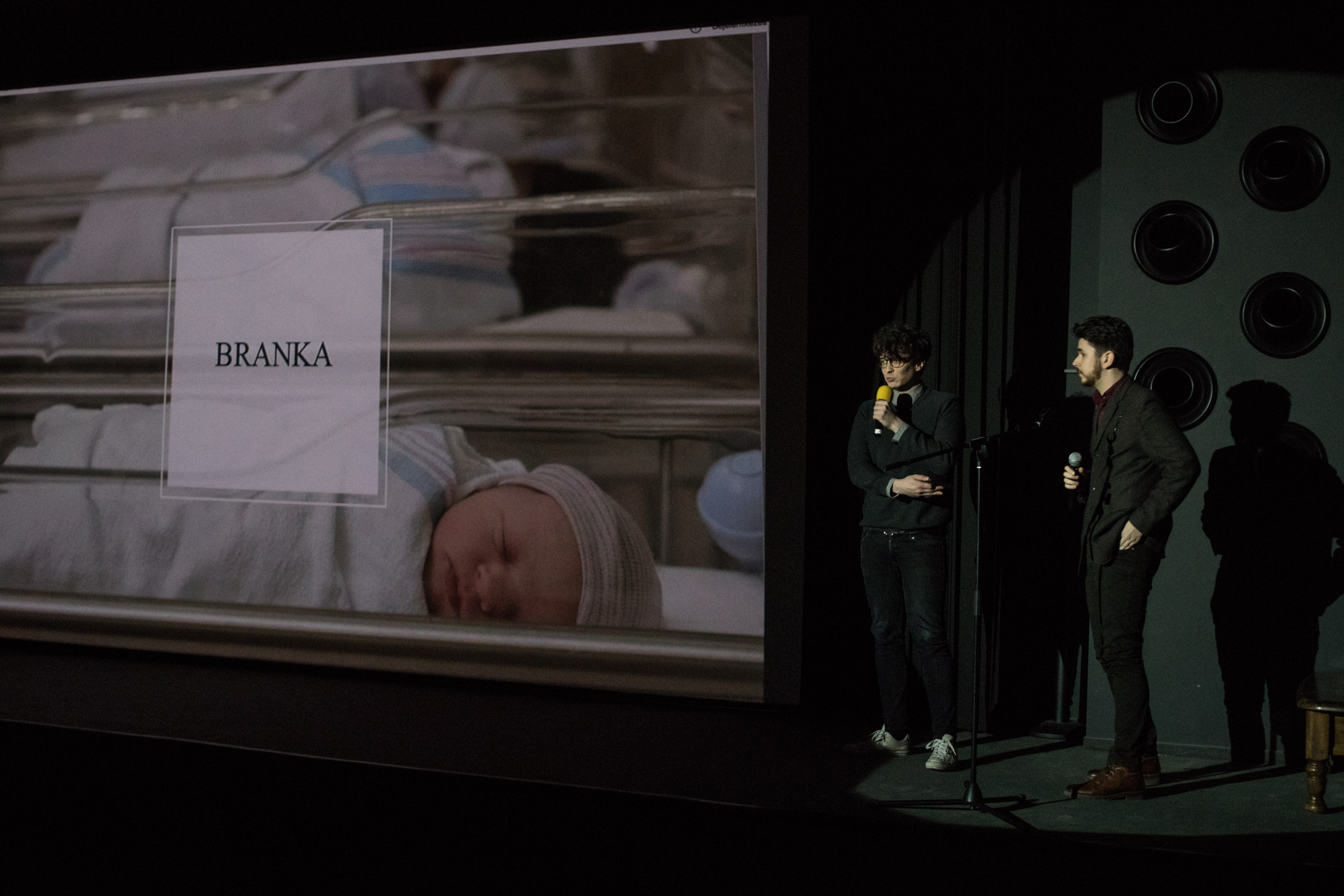 Ákos K. Kovács  at the pitch forum (Photo: Lili Chripkó)
Fris Hús again hosted a film review workshop where jury members were film critics Anita Libor, Bilsiczky Balázs, Csaba Tóth, and the festival's press coordinator Zsuzsanna Deák. The winning piece was Kamilla Simor's review of the short film Bokser, for which she received a prize of HUF 50.000 and her article was published on the website Filmhu.
For the first time this year, there was an online poster contest, where the audience award for the best poster went to Rossz színész designed by László Brunszkó.
The 6th Friss Hús Budapest International Short Film Festival had full-house on nearly all of its screenings, and besides the local audience, there seems to be a growing international interest in the event.